Archive
Wednesday
·
24.07.2019
·
19:00 WEST

(Local time)
Bachata Rooftop Wednesdays

Art Dance Love and Shine present together the Bachata Half Week Sunset. Come to the beautiful Rooftop View in Belem and learn the sensual movements in Bachata for Couples. After the class you can practice even more in a Social Dance with nice Bachata tracks and get a free drink.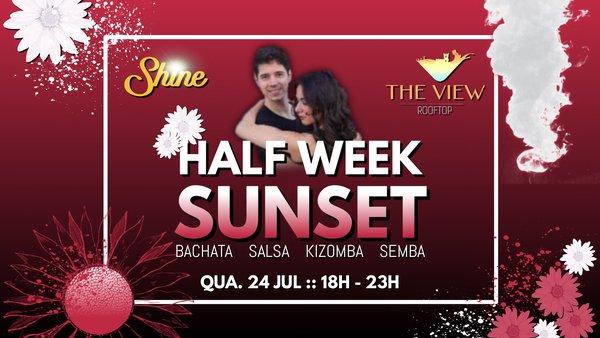 Program:
19h Bachata Open Level with Simon&Florence
Learn figures & tricks for your Social skills.
Price: 5 Euro per Workshop, incl. 1 Free Drink and Free Social Dance after classes.
Please sign up for the class!
Location: The View Rooftop Belem
Lisbon is getting more and more international with amazing vibes of realizing ideas. For us, it is not living a dream, it is exploring our inspiration. We like to catch this spirit and introduce you to the world of Sensual Dances like Bachata Sensual, Kizomba and Zouk, our passion.
Dancing is not just moving yourself! Connect to your body, share your creativity with others and discover your curiosity.
2020 © ARTDANCELOVE. All Rights Reserved.