Archive
Friday
·
24.01.2020
·
19:30 WET

(Local time)
Bachata Palace

You always dreamed of dancing in a 17th century palace? Now your dream will come true in the Selina palace in Bairro Alto! Feel like real kings and queens floating together over the parquet with the sound of epic Bachata music.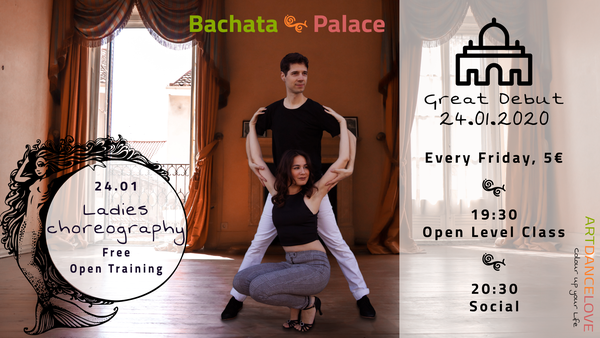 Dancing is not just moving yourself! Connect to your body, share your creativity with others and discover your curiosity...
We will offer FREE DRINKS for the Great Debut on 24.01.2020!
Program
18:30 - 19:30  Ladies choreography - Free Open Training
You always dreamed of dancing on stage? We will train to perform on national and international Bachata Festivals with a song mix of "Congelado" and our own choreography. In the first FREE Open Training you can get a whiff of our great team spirit :)
We focus in the regular class on moving your body in an elegant and sensual way and to learn more about isolation techniques you can practice at home.
You can be part of the group even if you want train your body movements for social dance or if you want to perform on a real stage. The most important is fun and motivation.
Please subscribe as the places are limited!
19:30 - 20:30 Bachata Open Level Class
Learn sensual movements and creative elements for Social Dancing
Please subscribe below and stay up-to-date!
20:30 - 22:00 Social / Practica
Entrance: 5 € Bachata Class + Social Dance + Free Welcome Drinks
What is Bachata Sensual?
Bachata Sensual was created in Cádiz, Spain, by Korke Escalona and Judith Cordero and is an independent dance form with strict lead and follow principles. The dance is an interpretation of the music with mostly circular movements and body waves. When the music has stronger beats, however, the dance also uses isolations and dips.
 
2020 © ARTDANCELOVE. All Rights Reserved.